Pediatric Eye Exams at Eye and Contact Lens Center
Pediatric eye exams are essential for ensuring your child's eye and vision health. Eye and vision care are instrumental for ensuring that your child's eyes are healthy and have no vision complications that can disrupt their school performance and daily life. Pediatric eye exams involve assessing eye-tracking, visual acuity, focusing, color vision, peripheral vision, and ocular health. Regular eye screenings help protect your child's eyesight as he or she ages and prevent potential issues from occurring. Your children may seem problem-free now, but eye-related conditions can develop over time. You can seek advice from your trusted pediatric eye doctor for your best options.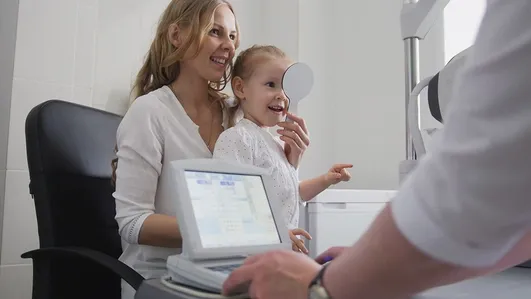 At the Eye and Contact Lens Center, we are committed to providing quality optometry services to patients in Kirkland and the surrounding areas of Renton, Bellevue, and Medina. Our professionals provide high-quality optometry services in a comfortable environment.
Standard Tests Administered During the Pediatric Eye Exam
During a pediatric eye exam, common eye tests performed by our optometrist include:
Visual acuity tests: Specific charts and tests measure both distant and near vision. The charts may consist of stories or pictures instead of alphabetical letters.
Color testing: The test determines color blindness in a child.
Pupil response: The response of the pupil is measured by shining a penlight in the eye. It is one of the ways to test an infant's vision.
Response to light: A child will blink in response to bright light.
Ability to follow a target: The most common vision acuity test for kids. The test checks the child's ability to look at and follow a toy or an object.
What Symptoms Should Parents Look Out for?
Paying close attention to your child's behavioral changes, physical appearance, and complaints can help you determine and treat eye disorders early. Symptoms often differ from one child to the other. However, common symptoms often include:
Sensitivity to light
Holding a book close or sitting close to a TV
Tilting their head
Squinting
Droopy eyelids
Swollen eyes
Red eyes
Frequent tearing
Frequently rubbing their eyes
Contact Us for Quality Pediatric Eye Care from Our Optometry Team in Kirkland
Are you searching for an experienced eye doctor for your child's eye care? At Eye and Contact Lens Center in Kirkland, we are committed to providing you and your family high-quality optometry services. Our pediatric eye exams help maintain your child's eye health and vision. In addition, the exams will help address any problems early, so any eye condition will not hinder your child as they develop and learn. So book an appointment online or call us at (425) 822-8204 to learn more about how we can help.